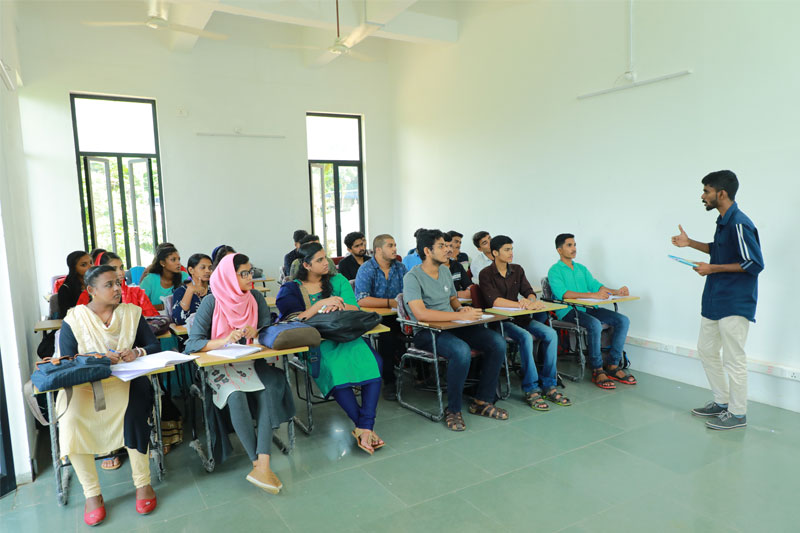 The BBA course is tailored for the ever evolving, constantly changing globalized business environment of 21st century. The students will develop the fundamental skills and knowledge that managers need to lead complex organizations. The BBA course at Grace Academy will cover all the areas in management sciences and will lay the foundation for anybody interested to pursue management as their area of study.  In addition to the academic inputs various value added programs which will help in the  well-rounded and holistic development of the students are also part of the course.  It seeks to develop management professionals who are competent in their chosen domain, sensitive to the environment and culture, responsible to the communities, ethical in all doings and global in their outlook and approach. The BBA course at Grace Academy will achieve these objectives by having very rigorous academic processes, Internship programs, Live projects and extensive industry interaction.
Uniqueness of the B.B.A course at Grace International Academy:
Add on course on Logistics
Logistics is one of the most important areas in management which is showing huge potential in terms of a specialisation as well as large number of jobs being added to it. One of the unique features of the BBA program at Grace Academy is the sandwich program where in which students will be able to get an additional qualification along with the BBA degree of University of Kerala. It is 150 hour course on Logistics and Supply chain conducted by the best educational agency specialising in this area. Students who join for this course will do an internship on Logistics in a prominent logistics company which will increase their job prospects when they complete the three year BBA course at Grace Academy. Students also will be offered job placements and assistance when they complete the course.
Value Addition to the BBA course at Grace Academy are:
Internships every year: Internships are part of the learning. It is to connect theory with practice. The Institution intends to have an internship every year. The duration can vary from 15 days to 45 days depending upon the academic schedule
Live projects: Live projects area knowledge enhancer for business Management students. It provides a great opportunity for exposure and creates a very positive impact in eyes of organizations. It will path for getting a good job. The focus of the department will be do live projects with the start-ups and in this way it will be good opportunity to develop the spirit of entrepreneurship at Grace International Academy.
Conducting and Taking part in Management Fests: Management fests are organised by different colleges for students to have an exposure to group activity, competition and learning social skills. Grace Academy conducts management fests organised by students and the Institution also encourages students to take part in fests outside conducted by different colleges.
Being part of different clubs like Marketing club, Finance club and HR club: Clubs are mini laboratories for student learning through social interaction at Grace Academy. Each student of BBA will be part of a club of his liking. The student will be given opportunities to take part in different activities of the club.
Weekly Industry Interaction: Every week a representative from the Industry will be addressing the students on his life experiences as well as the topic which is current in the world of business.